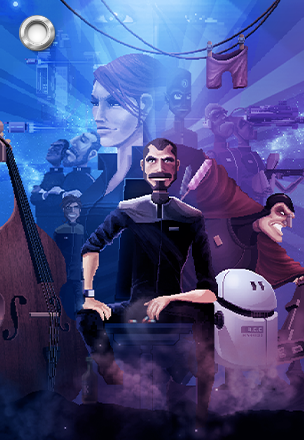 The Captain
An epic graphical retro-styled space adventure.
You are Captain Thomas Welmu, a Spacefleet science officer, lost on the other side of the galaxy.

Race back home across the galaxy. Collect new friends on your journey. Make new enemies.

You won't be able to save everyone. Who will you leave behind? Which civilizations will you save - or destroy - along the way? The decisions are all up to you.

You are... The Captain!
GIVE ME MORE!

About Sysiac Games
Peter and Benny are two old friends living in the small town of Nyköping, Sweden. They have always had a passion for making and playing games.

Benny Eriksson – Programming
Benny worked mainly as a backend java developer for about ten years before he quit to do this project. He has been playing with game design since his first computer in the middle of the 80:s. Benny loves what he does and is always trying to keep up with the latest news about computers, programming and game design.

Peter Hedin – Graphical designer and sound
Peter has been making games with his childhood friend Benny since 1990. Aged 46, he has put 20 years of professional web designing behind him. Today, when he is not deep into plotting pixels for the next grand game vision, Peter helps his wife keep track of the sheep and horses on their farm.